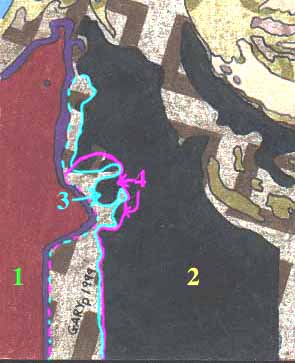 1-green -cloaked figure in red -represents the influence of satanic cults, and their uniform.
2-yellow -statue shape -reresents government, the "state". This figure and the satanic one, combine to create a pair of figures that represent me, a part of me created by the net effect of 1 and 2.
3-cyan (blue) - anguished figure with cult hands at neck, the arrow pointing to the mouth. -the effect of the cult.
4-pink -blindfolded figure, facing slightly out of the page toward the right. This figure represents the government mind control victim. The arrow points toward the blindfolded eyes.
The neck of both figures is the same.
At the top of the cult and govt figures, there is a connection. This represents their limited cooperation in sectioning off a part of me to be subjected to such treatment. I signed my name to the drawing on the figure that represents me, I realised after I did so.